CONFERENCES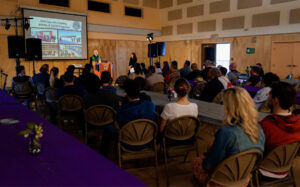 Our team will provide top of the line equipment and Expertise to make your conference a success.
We specialize in government, First Nations, industry, education, health and NGO's conferences across Canada and the North.
We are nationally recognized as leaders in complex system integration, communications, simultaneous interpretation, video and audio archiving, broadcasting and pioneers in streaming and virtual events.
WE PROVIDE:

Appropriate sound reinforcement
Conference and wireless systems
High end Audio Visual technology
Large projection screens, TV's
Multi-cam videography
Lighting for stage and camera
Creative content production ( videos, animations)
Simultaneous Interpretation, bilingual interpretation
Whisper systems
ASL
Zoom/WebEx/Facebook Live integration
Press conferences/media management
Stage management
Digital timers
FESTIVAL PRODUCTION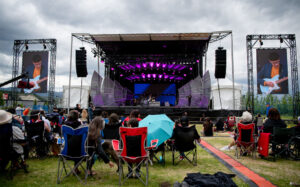 HIGH END FESTIVAL PRODUCTION
From the very beginning, Solid Sound has been dedicated to the music, arts and cultural sector of the North and its Indegenous communities.
We have been at the epicenter for the cultural transformation, revitalization of our First Nation brothers and sisters, as well as being strong supporters of our very own Franco-Yukonaisse community.
Central to our mission is keeping alive the free expression and creative capacity of the Yukon, Northern BC and NWT alive and well, both pre, and post pandemic.
There has never been a more important time in modern human history than now to re-evaluate the significance of the need for humans to gather and to celebrate the best of which we have to offer, and our deepest need to connect with one another.
We provide:

Technical Production
Stage management
Professional Audio engineers
Monitor mix
Lighting design
The best projection in all of Northern Canada with a Panasonic 10,000 lumen Laser projector
We work with Digico, Allen and Heath, Midas, QSE and Yamaha digital (and analog!) mixing boards from 6- 96 channels plus stage boxes
Professional backline- Fender, Marshall, Roland, Ampeg, Pearl. Pioneer DJ gear, Audio Technica turn tables
Assortment of professional microphones
Professional LED stage lighting
Video mapping, hazer, lasers and stage lighting FX
INSTALLATIONS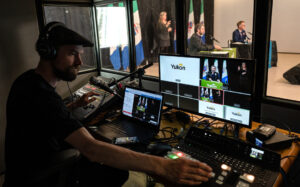 Professional AV installs for any project
We do installations for large and small rooms, be it municipal governments, First Nations governments and educational/training facilities.We also design multi media integrated systems that are purpose built to taylor to clients' specific needs and technical requirements
We provide:

Smartboards
Zoom Rooms
Video Conference systems
PTZ cameras
Integrated multimedia
Translation systems
Streaming and Broadcasting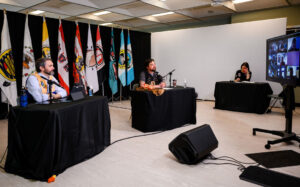 Leaders in Streaming Technology
As pioneers of web streaming services in the North, we take pride in the professional service and output to your preferred platforms.
With professional Directors on staff,we are able to live-switch, do picture in picture, manage multi media presentations, and integrate media journalists, remote presenters, and ASL.

We also have several years experience working along and supporting National broadcasters such as:
CBC National
Radio-Canada
Global National
APTN National
CTV National
CPAC

We provide:

Technical Producer
Professional director/DOP's/ cam operators
Professional Audio Engineers
Professional camera and lighting packages
Live switching
Media management
Multimedia integration
Broadcast sound mixing
Stage management
Music Production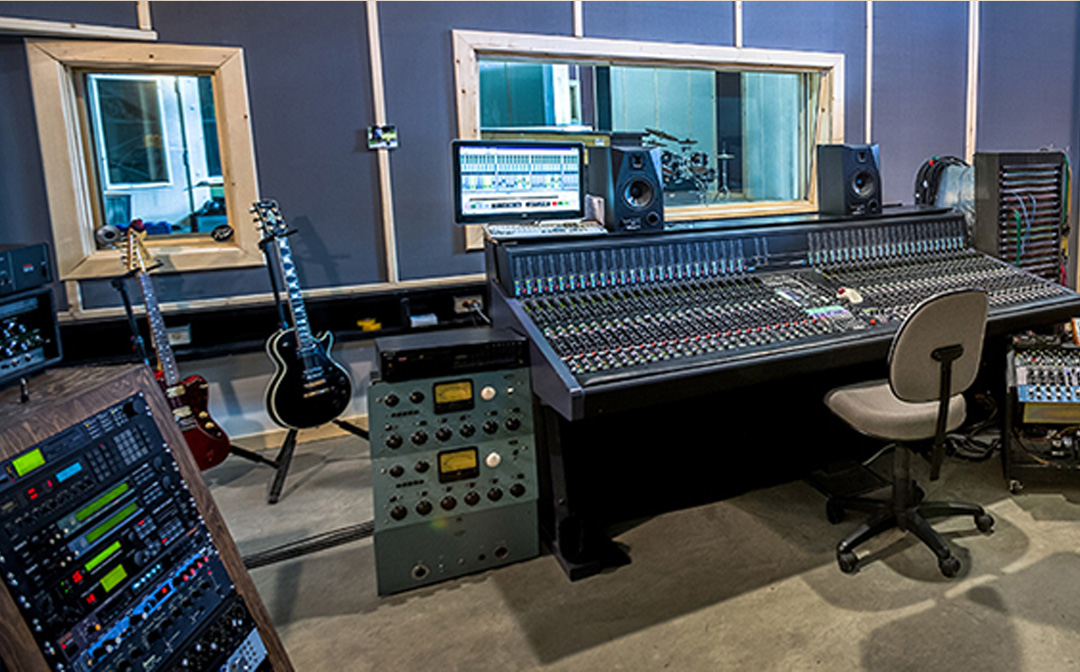 Green needle records
We are partners with Green Needle Records, the leading studio production facility in northern Canada. Whether it be for music or audio creatives, music videos, audio for television/film.
For bigger projects, we also collaborate with our affiliated with studios in Halifax, Toronto ( El Mocambo Productions), Ottawa, Nashville,TN and Vancouver.
We also have, through the new branch of Falcon Media, Music Video Production crew that will bring you straight through from pre-production planning ,directing, editing, effects and colour correction.
We specialize in web and television formats, and making dreams come true.
Podcasting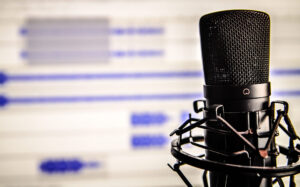 Professional Podcasting Solutions
Solid Sound is not only a Yukon company, but a Canadian company with National outreach and professional network.
We have the abilities to produce a take your podcast to the next level, as well as the marketing tools to publish, host and monetize your content.
We Provide

Professional podcast and
webcasting studio gear
Editors
Post production
Follies
Archiving
Online Branding
3D sound design
Creative Content and Web Design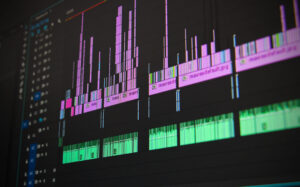 Cutting edge creative content
A new addition to Solid Sound is Falcon Media, which is the creative arm of the company. Creative content is the key to interesting and immersive web technology and marketing.
It means getting your message out there in fun, creative, or informative ways. Whether it be election campaigns, online branding campaigns, CTA's or platform hosting, we now have a new way to meet our clients' needs.
We have skilled producer, directors, script writers, web designers, animations and video editing for conference presentations, Tiktok, Instagram, Facebook, websites, and broadcast commercials.
Film Production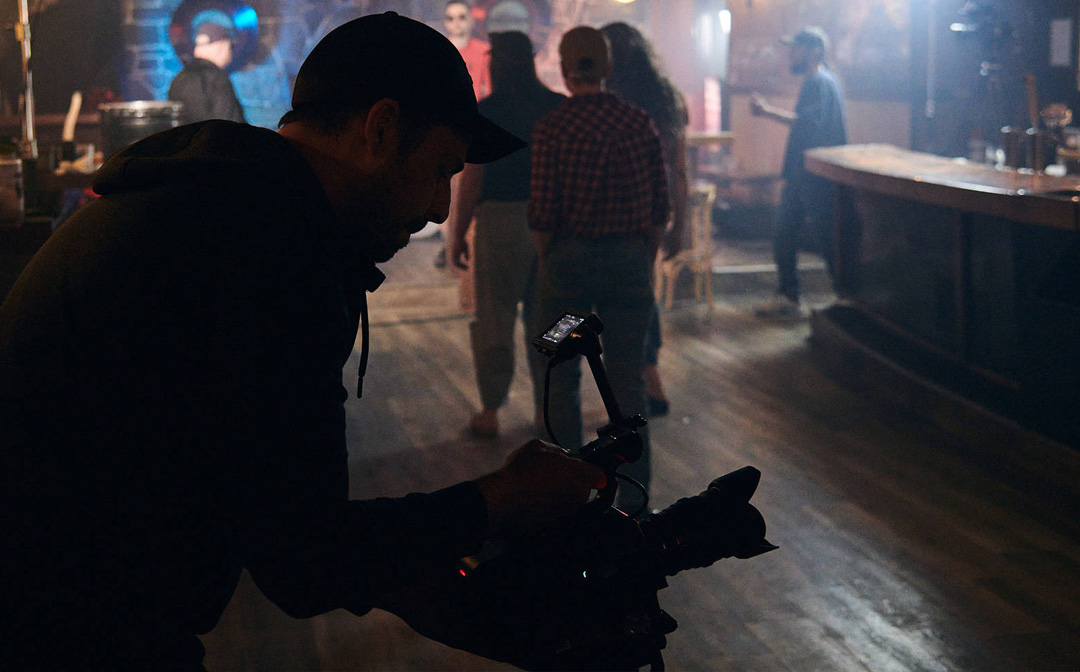 Commercial and Documentary film productions.
Finally, Falcon Media and Solid Sound join forces in the Commercial and Documentary film production industry in the Yukon.
Already having national prime time broadcast exposure on CBC and APTN, and having collaborated with several international and national award winning Directors, Producers, Editors, Audio Engineers, the combined company plans to use its creative capital and extensive experience across the media sectors, to produce important and compelling pieces of work for screens of all sizes.
With years of experience in television, commercial television,film and multimedia, the digital age is upon us, and we are fully equipped and set up to deliver exquisite and memorable productions. This is the future of the company and has been the goal since headquartering in the Yukon.
We Provide:

Professional documentary and commercial camera packages and lens kits
Professional Lighting for video and photography
30 ft.Production trailer
Jib boom
Drone
Dolly
Steadicam
Playback monitor
Production software
Editing
Effects and animation
Colour Correction
Field audio gear
Green screen
Contact Solid sound today!